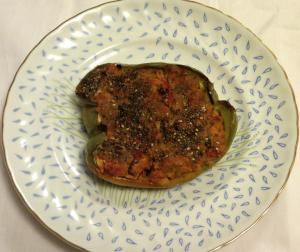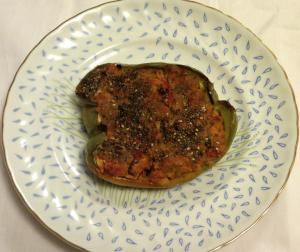 Ingredients (for 4 people):
2 peppers
100g okara
4 tablespoons chia seeds
2 ripe tomatoes
½ onion
2 cloves
parsley
sea salt
extra-virgin olive oil
Preparation:
Open the peppers in half lengthwise and clean them.
Sauté the onion and garlic in olive oil and then add the tomatoes. Add the okara (soybean pulp resulting from the preparation of soy milk) and let cook a few minutes. Season with salt and chopped parsley and add 3 tablespoons of chia seeds. Mix well and turn off the heat.
Fill the pepper halves with the sauté and sprinkle with some more chia seeds. Put in the baking dish greased with a little olive oil. Let bake until the peppers are roasted.
Serve with quinoa and salad.
Insert date: 2013-12-11 Last update: 2013-12-13
Comment





Authors > Contributor writers > Cristina Rodrigues
Authors > Translators > Carolina Freitas
Recipes > Main Dishes