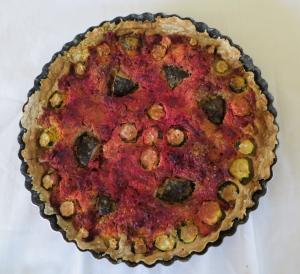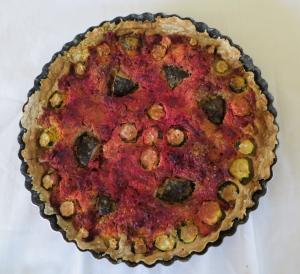 Ingredients:
1 cup wheat flour
1/2 cup buckwheat flour
1 cup water
1 teaspoon yeast
1 teaspoon baking soda
200g homemade tofu
1 beetroot
Soy sauce
Brewers yeast q.b.
Extra-virgin olive oil q.b.
Zuchini q.b.
Shitake mushrooms q.b.
Preparation:
Make a tofu with your soya milk maker and tofu kit, or get it from your health food store.
Mix the flour, yeast and baking soda. Slowly pour the water and mix, to form a dough ball. Then pour the mixture into a casserole, previously greased with olive oil.
Smash the tofu with a fork. Season with soy sauce, brewers yeast and a little olive oil (or other seasonings to taste). Grate the beetroot and mix with the tofu. Pour the mixture over the dough in the casserole
Garnish to taste with slices of zuchini and mushrooms.
Take to the oven for about 25 minutes.
Notes:
For a cheaper recipe make the tofu at home, with soy milk made in a soymilk maker, using a coagulant such as nigari or 1 tablespoon of vinegar.
Insert date: 2013-11-15 Last update: 2013-11-18
Comment





Authors > Translators > Carolina Freitas
Authors > Contributor writers > Cristina Rodrigues
Recipes > Main Dishes