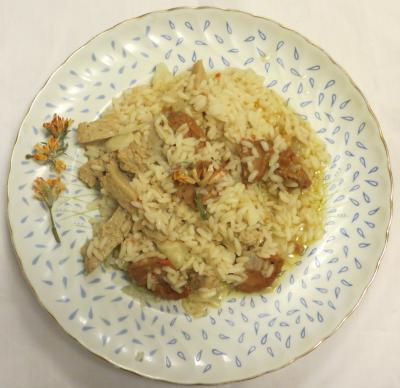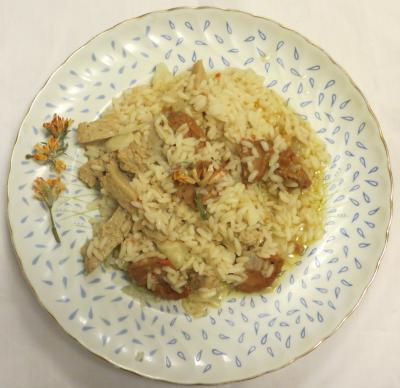 For the infusion:
10g carqueja
1.2L of water
For the rice:
1 cup of rice
1 small onion (chopped)
2 cloves (laminated)
250g seitan (cut into thin strips it can be marinated a few hours before, to add flavour)
½ soy sausage (sliced)
extra-virgin olive oil
sea salt
carqueja flowers
Preparation:
Boil water and prepare the infusion of carqueja. Let it stand for about 2-3h and strain only when it's time to cook the rice.
Sauté the onion and cloves in a pan with olive oil.
Add the seitan and continue sautéing for a few minutes.
Add the rice and mix everything together.
Gradually pour in the carqueja infusion and stir.
Let it cook for a while and, just before turning the heat off, add the soy sausage and a little salt.
When the rice is cooked, turn the heat off.
You can decorate with some carqueja flowers just before serving.
Suggestion: serve with a green salad and a glass of Kombucha.
Insert date: 2014-02-13 Last update: 2014-02-17
Comment





Recipes > Main Dishes
Authors > Contributor writers > Cristina Rodrigues
Authors > Translators > Sónia Cruz