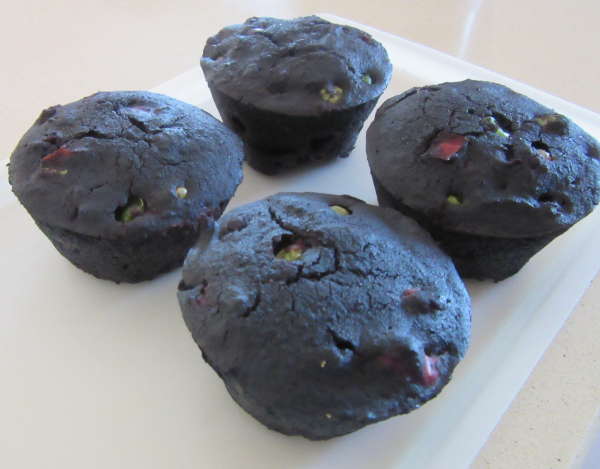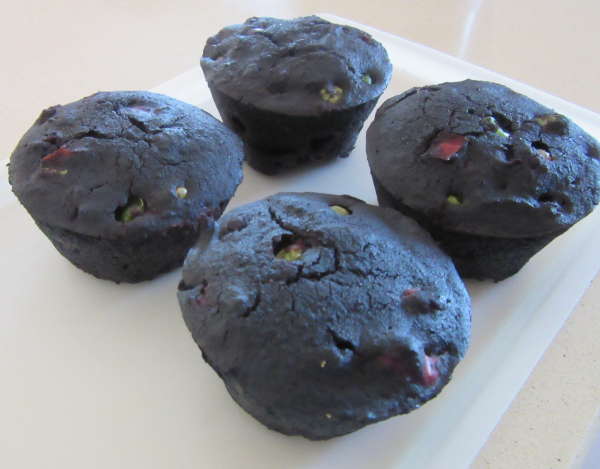 Ingredients (for around 12units):
200 g Midzu purple corn flour
100 g Midzu teff flakes
1 teacup of peas
1/2 small onion
1/4 red pepper
350 ml water
150 ml Midzu extra-virgin olive oil
chopped parsley as needed
oregano as needed
1 coffeespoon of mustard
1 dessertspoon of cider vinegar
sea salt as needed
1 teaspoon baking powder dessert
Preparation:
Mix the flour and the flakes. Add the chopped onion, the pepper cut in small cubes and the peas (if you use frozen peas, let them defrost first).
Add the seasonings as per your liking, the olive oil and the water. Mix well until you obtain a homogeneous mixture (if needed add more water or flour). Add the baking and mix.
Grease some muffin tins with olive oil and pour in the dough (just fill 2/3 of the tins).
Put the tins on a preheated oven at 180 ºC, and cook for about 20 minutes or until the muffins are cooked.
Suggestion: you can use other vegetables or seasonings as you like.
This muffins' color hardly goes unnoticed at any picnic or party. A gluten-free recipe of delicious, soft salty muffins.
Insert date: 2015-08-30 Last update: 2015-08-30
Comment





Authors > Contributor writers > Cristina Rodrigues
Recipes > Main Dishes