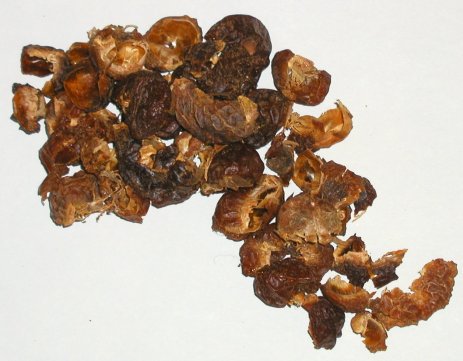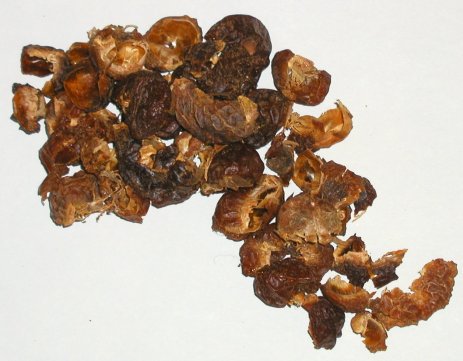 Soapnut shells (sapindus mukorossi) come from a tree with the same name, that grows in India and Nepal, harvested in a sustainable way between April and September.
Soapnuts contain saponin, a vegetable mild detergent. Soapnuts are a natural, environmentally friendly alternative to most detergents. They are anti-allergenic, especially good for washing babies' cloths and for people with eczema and sensitive skin.
Economical and Ecological
The use of soapnuts is very cost effective - 1kg of soapnuts can be used for more than 100 loads of laundry or dish-washing, with no need for fabric softeners or other detergent additives. It leaves the laundry soft and clean and preserves colours even in the most delicate clothes, and leaves the dishes shinning. Soapnuts can also replace many other common detergents, saving money and packaging waste. You will notice there is no saponin left if your soapnuts when they get dark and dry, then you can dispose of them in your compost. They are 100% biodegradable and a good fertilizer.
Laundry
Using soapnuts for your laundry is easy, just put 6 or 8 shells (aprox. 20g, or more depending on quantity, size and dirt of your laundry and the hardness of the water), into a cotton bag and place it in your washing machine. Wash on your usual cycle. After washing, remove the bag and let it dry. Soapnuts may be reused several times. You can also boil soapnuts to make a liquid detergent for hand washing.
Dish-washing
Soapnuts can be used in the dishwasher exactly the same way you use them for laundry. Just place them in the cutlery holder and add half a lemon for a nice smell and shinier dishes (optional). You can re-use them for laundry, since laundry does not require as much saponin as dish washing. As for laundry, the liquid detergent obtained from boiling soapnuts can also be used for hand washing.
Other Uses
You can easily make a multipurpose cleaner. Just boil 1 litre of water and add 50g of soapnuts. Let it boil for 5 minutes, and as soon as it is cold percolate it into a container. You will have an antiseptic, fungicide detergent that can be used in almost everything. Use it in your bathroom, kitchen, car, windows, in the garden, directly in your plants as a parasite repellant, in your pets as a shampoo or even in yourself for bathing. The liquid soap can last 2 weeks, or a bit more if stored in the refrigerator (in this case don't forget to label it, so you don't mix it with your drinks). The boiled soapnuts can be re-used for laundry or dish washing. You can also add some herbal plants like lavender to your boiling water to add a natural perfume.
Insert date: 2013-11-25 Last update: 2013-11-27
Comment





Authors > Translators > Ana Alpande
Authors > Contributor writers > Cristina Rodrigues
Ecological alternatives